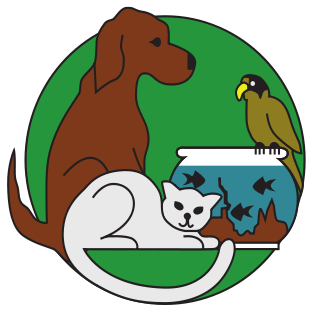 History of The Animal Medical & Emergency Hospital
When Donn Griffith was a six year old boy, growing up in Upper Arlington, Ohio with two loving parents and a brother four years older than he was, he read a book titled, Hitchhiking With Jimmy Microbe, by Virginia and Drew Jacobsen and Lyman L. Daines, M.D. Donn found this story of germs and their effect on the human body to be fascinating. He decided to become a germ scientist when he grew up. By second grade, he had decided that being a medical doctor would be the best way to help people while pursuing his interest in germs.
Between seventh grade and eighth grade Donn's family moved to Mull Avenue in Akron, Ohio. Soon thereafter, Dr. and Mrs. Clinton Barrett and family moved in next door. Donn was drawn to the Barrett's home by two attractive daughters and by Mrs. Barrett's culinary delights. Dr. Barrett worked in his veterinary practice from 8 am to 8 pm six days a week and from 10 until noon on Sundays. On those long days for Dr. Barrett, dinner was usually a burger from Swensen's Drive-In across the street. Upon returning home each day, Dr. Barrett took up residence in his recliner and fell asleep. Upon arising each morning, off to the veterinary clinic he went, to work until 8:00 pm again. Surprisingly, Donn wasn't dismayed with this lifestyle. Donn's professional aspirations changed from being a physician, to becoming a veterinarian.
Donn's high school years brought good grades and a lot of sports—tennis, basketball and football. The highlight of his senior year was his naming to the High School All American Football Team. After being accepted at Ohio State and Purdue, he accepted a full scholarship to Purdue University, where he played football while working on his bachelor of science degree.
Veterinary School started after two years of undergraduate work; and Donn landed a job selling life insurance for John Hancock to make ends meet while in school. Donn took a break in veterinary school for a stint in the Air Force., then finished his B.S. in Physiology at The Ohio State University. Donn went back to Purdue to complete his studies and receive his Doctor of Veterinary Medicine Degree. After two years of working in Lafayette, Indiana and looking for a place to settle and establish a veterinary practice, Donn moved back to Ohio, settling in Dublin.
Donn purchased a home on Dublin-Granville Road, just west of Sawmill Road. He used his savings and borrowed from his parents to finance the addition of a state-of-the-art facility that would allow him to be the Central Ohio pioneer of the full service concept in veterinary medicine. This facility, opening in 1971 and originally named The Animal Medical Clinic, adhered to the highest standards in veterinary medicine, earning certification from the American Animal Hospital Association. The new millennium brought road widening to Dublin, forcing The Animal Medical & Emergency Hospital to move. Donn found an accountant's office two miles east of his Dublin location. A year of extensive remodeling resulted in the February, 2001 opening of our current location at 2527 W. Dublin-Granville Road, in West Worthington.
During the early 1970's Donn served as the Columbus Zoo veterinarian and concurrently earned a Master of Science Degree in Zoo Preventive Medicine from The Ohio State University, where he also taught zoo medicine in the veterinary school. Donn's practice includes treatment of exotic pets as well as dogs and cats. He has been the on-call veterinarian for the Shrine Circus each April.
In the 1980's Donn became interested in alternative and complementary therapies. After becoming aware of the acupuncture training offered by the International Veterinary Acupuncture Society (IVAS), he invested in the IVAS course and earned their certification. Watching the good results obtained with acupuncture was a life altering experience. He felt he could spend the rest of his life learning about medicine from around the world. His studies brought him more modalities to use in helping Central Ohio pets. Further IVAS study led to advanced certification in herbal medicine. Over a two year period, several long weekends with the American Veterinary Chiropractic Association earned him certification in veterinary chiropractic. Ohio Holistic Veterinary Service was born out of this search for new modalities; it is housed at The Animal Medical & Emergency Hospital.
While maintaining a loyal clientele who want "conventional medicine" for their pets, clients began coming from all parts of Ohio and from out-of-state to receive a holistic approach to healthcare for their animals. Unlike many "holistic practitioners," Donn feels it is inconsistent with the holistic philosophy to reject conventional medicine in favor of alternative therapies. He continues to utilize the best of what we have learned about healthcare in recent years with the wisdom of many centuries of healthcare from all over the world. He refers to his service as an "integrated approach to pet healthcare." Dr. Griffith loves learning and spends several weeks each year adding to his education in conventional medicine as well as alternative therapies. He was recruited by the Veterinary Information Network to be one of their consultants on Alternative and Complementary Medicine. In this capacity, he helps other veterinarians in their use of alternative modalities for the benefit of their patients. Dr. Griffith served as President of the American Holistic Veterinary Medical Association in 2007-2008; he continued his service as a member of the AHVMA Council of Elders.
By Gayle P. Griffith